There are many different ways our customers can connect with us, and we can help you through the home finance journey with the method that suits you best:
Completing everything online and uploading all relevant information to my SMM advisor using my Phone, PC, Laptop, iPad, Mac or really any other device with Wifi capability

Emailing through my details and attaching key supporting information such as pay-slips, identification, Sale & Purchase agreements, financial position, etc.

Telephone chat with one of our friendly Mortgage Advisors to get an early indication of whether your financial needs would fit the policy requirements of our major lenders

A face-to-face discussion at a time and location that suits you so that we can review all options available to you
HOW DOES THE ONLINE PROCESS WORK?
If you're sitting at home with any Wifi capable device, all you need to do is provide us with your email address and a few basic details. Most of our customers simply click on the link to one of our friendly Mortgage Advisors HERE and complete some basic details. That's all we need to get the ball rolling!
We'll then send you an email looking like this so that you can start completing your own individual 'Client Profile'. This is a simple and easy way of providing us with all of the key information we'll need to assist you and takes between 10-15 minutes to complete.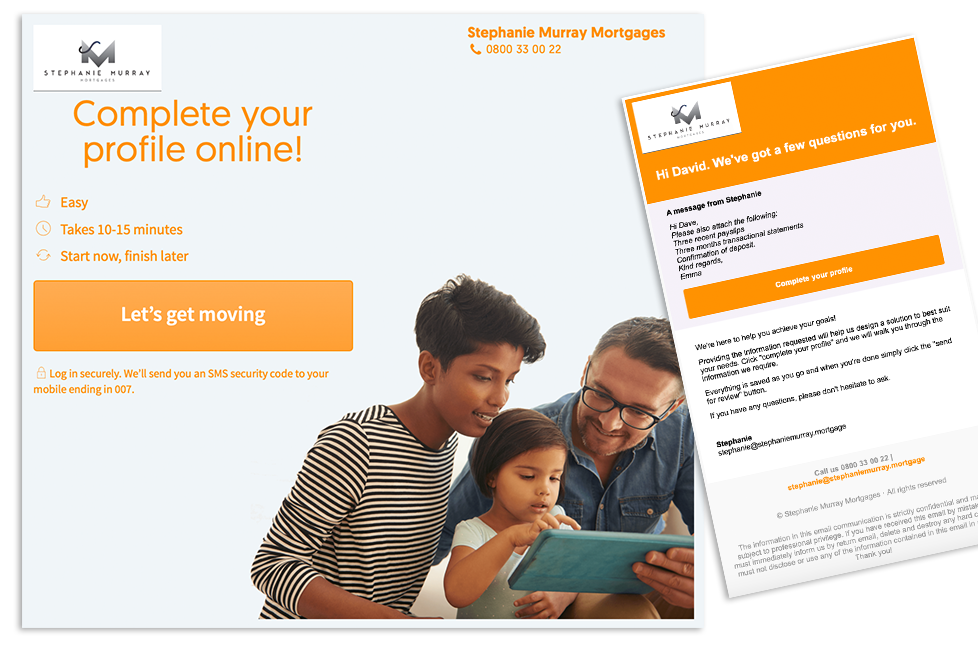 IS MY INFORMATION PRIVATE & SECURE?
Only your chosen Mortgage Advisor will be able to view the information you provide. As an added protection, we even send you an SMS message to your phone before you begin, asking you to enter a 5-digit PIN code that we'll give you. This ensures that only YOU can access the information submitted to us, and also enables you to log back in to update any of the details at any time.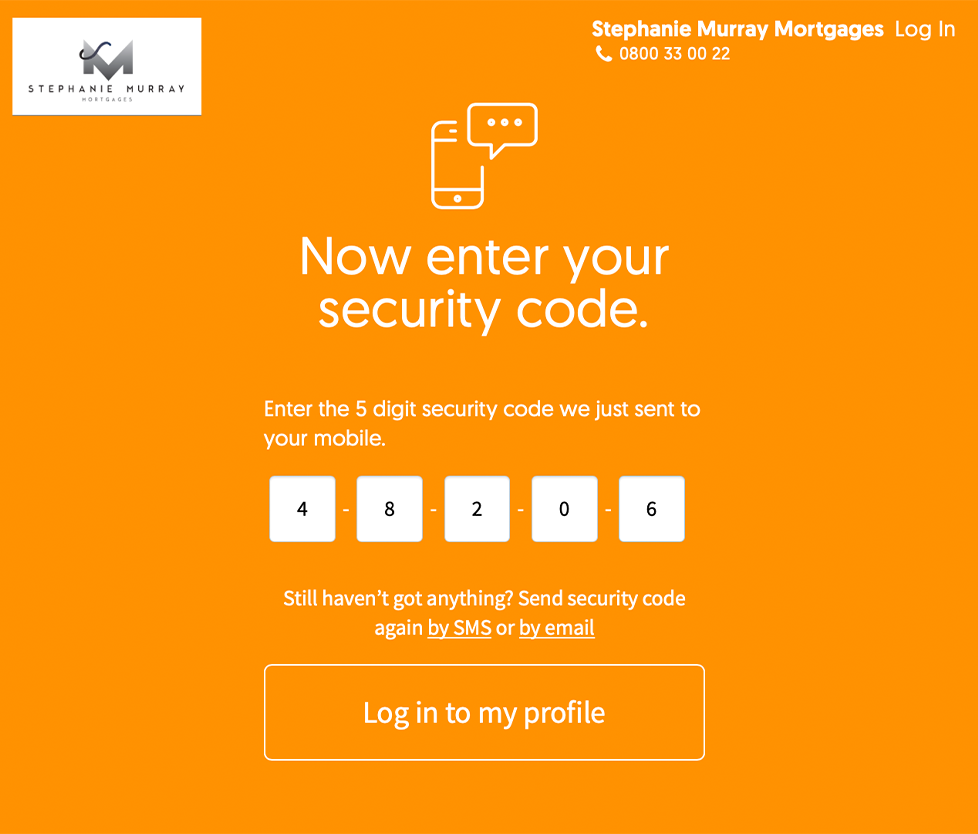 WHAT'S NEXT?

Once you've entered your individual access code, you'll be guided through a number of different screens where you simply type in your specific information under clearly defined headings.
Your personal details

Your household situation

Co-Applicants (spouse, partner, etc)

Your current home & other assets

Your current mortgage & other liabilities

Your financial goals - what are you seeking to do?

Household income

Household expenses

Employment details
You'll then be invited to upload any supporting documents you may have to verify some of this key information, like pay-slips, etc. These can be scanned or you can even take a good quality photo of these from your phone!
At last, you're ready to click SUBMIT and we'll have a good idea about your current financial situation along with your short-term borrowing requirements.
WHAT DOES MY ADVISOR DO WITH THIS?

Your Mortgage Advisor will then carefully assess the information you've submitted, and the more detail we have the better. There's plenty of opportunities for you to discuss, query or change any of this information with us, and our objective is simply to get a clear and thorough understanding of your financial position from the outset.
We'll then be able to understand what you're trying to achieve (ie: buy a first home; purchase another rental property; refinance to a much lower interest rate; upgrade the car or boat, etc).
HOW DO YOU FIND THE BEST DEAL FOR ME?
We have access to virtually every major bank and lender in the country and have a clear understanding of what their specific credit policies and lending appetites are. Our software outlines which Lenders your borrowing proposition would appeal to most. We'll then look to provide you with the best 2-3 options to consider along with our recommendations to meet your specific requirements.
SUMMARY

No matter what your preferences are, we're here to help you in any way we can. It's becoming increasingly common for us to provide tailored finance options to our customers remotely without ever having met them face to face. The team at SMM have helped literally thousands of customers into properties or other financial solutions using these state of the art borrowing Application tools, so if you'd like more information just book a FREE chat with one of our friendly team … we can get the ball rolling for straight away!